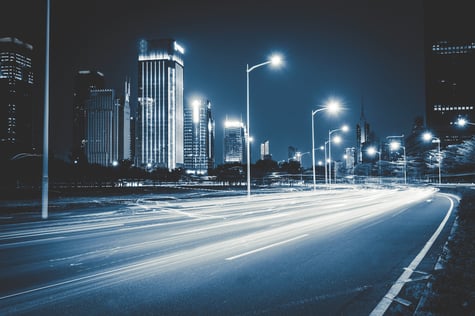 From cities to universities to corporate campuses, bright lighting for roadways and streets is essential for safeguarding human life and protecting property. It's also necessary for helping people feel safe as they get in and out of their vehicles. If a location is dark and out of the way, people will be too frightened to work there or visit at night, after all. To attract more visitors to your location, bright roadway and street lighting are welcoming beacons that instill a feeling of security.
If you are tasked with installing, maintaining and repairing roadway and street lighting or if your organization can't stay open without proper street lighting in place, the economics of dealing with these lights likely looms large in your budgetary planning. Taking a long view approach, it makes sense to install LED lights instead of conventional lights based on overall savings (financial as well as in energy).
The U.S. Department of Energy published its report, "Energy Savings Forecast of Solid-State Lighting in General Illumination Applications," to offer predictions about the use of light-emitting diode or LED lights in this country. This article is part 7 of our 9-part series detailing this report.
If this is your first time checking out this blog series, please click here to read the introductory post on this DOE forecast.

The Department of Energy's Forecast for Street Lighting
Street lighting once was accomplished with fiery torches, great for ambiance but not so great on the environment, with all the smoke given off. Eventually, with the electrification of America, street lights and roadway lights spread until the point where now it's difficult stepping outside and seeing the stars without the glare of artificial illumination at night.
The DOE noted that solid state, or as it's more commonly referred to, LED lights provide exceptional advantages for street lighting because they are highly durable, can serve as lighted directional sources and have longer lifecycles than conventional lamps.
To take advantage of the lower total operating costs of solid state lighting, many cities have taken steps to transition their street and roadway lights to LEDs. For example, the DOE reported that the City of Los Angeles recently finished a four-year project that installed more than 140,000 LED streetlights in a citywide lamp replacement program. More than 3.3 million LED roadway and street lights have been deployed nationwide since 2013, according to the forecast.
By the end of 2017, the DOE predicts that the lighting market share of LEDs for roadways will reach 50% of all lumen-hour sales. And by 2030, the DOE forecasts that practically 100% of roadway and street lighting will be done using LED lights, enabling us to save about 30% on electricity costs.
Other cost savings are also to be expected. Since LEDs last longer than high pressure sodium or metal halide lights, workers will not have to replace them as often.
Supplying proper amounts of light to drivers, pedestrians and workers on roadways and streets is a crucial task that should not come with the added burden of a high total cost of ownership. When you think of all the lights that must be changed on a regular basis to provide worry-free driving, it makes sense to work with solid state lamps instead of those produced during a less efficient era, such as high pressure sodium and metal halide lights.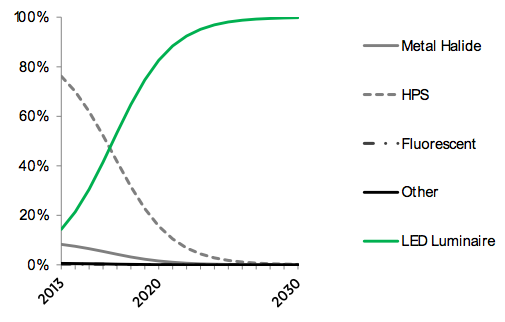 Figure 3.15 Street and Roadway Market Share (% of lm-hr sales) Forecast, 2013 to 2030
Stay Tuned for More on LED lighting Industry Forecasts
There is a great deal of information in the DOE report that we cannot cover in a single article. Accordingly, we are publishing a complete series about LED lighting and the future of the industry that we hope our readers will find informative and useful.
Upcoming blog posts will cover a variety of LED lighting submarkets you can find outlined below. In the meantime, if you have any questions about LED lighting performance, selection or installation, please contact the team at XtraLight today.
Energy Savings Forecast of Solid State Lighting Series

Part 1- Introduction
Read Now
Part 2 - General Service Lighting
Read Now
Part 3 - Decorative Lamps
Read Now
Part 4 - Directional Lighting
Read Now
Part 5 - Linear Light Fixtures
Read Now
Part 6 - Low Bay & High Bay Lighting
Read Now
Part 7 - Roadway & Street Lighting
Part 8 - Parking Lot & Garage Lighting
Read Now
Part 9 - Building Exterior Lighting
Read Now