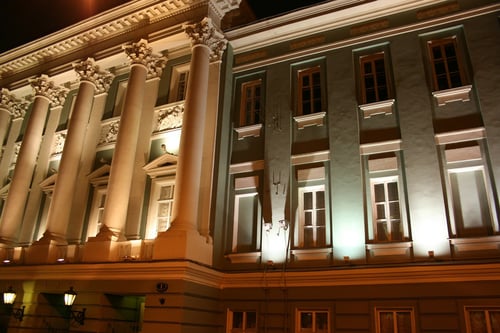 You know that you've made it when floodlights illuminate a path to the door of your organization. When people can clearly see your organization's logo and the colors you selected for branding, you are more easily distinguished from the competition.
All other things being equal, a building lit up by exterior lights will typically be more inviting and attractive to visitors than a dark building. Issues of aesthetics as well as safety come into play when you are considering the lights that illuminate your building.
Let's say the architecture and design of your building are striking or even unique. There is no need to hide this from people at night when floodlights will easily showcase the beauty and power of the structure.
Lighting represents a major aspect of our energy consumption burden and the U.S. government is working to encourage more people to use solid state lighting, which is much more efficient than fluorescent, metal halide or high pressure sodium lights.
The Department of Energy recently commissioned its "Energy Savings Forecast of Solid-State Lighting in General Illumination Applications" report, which provides details on the efficacy of solid state, or as it's more commonly referred to, LED lighting systems and how they can lower our energy consumption. There is so much information in the report on different industries, we are publishing a series of blog posts to give proper attention to the DOE forecast. If you haven't already read the introduction, click here to get started.

Building Exterior Illumination with LED Lighting
A wide range of items will be illuminated with exterior lighting systems. For example, you will be casting light on the driveway, landscaping, steps and walkways, as well as architectural features or your company logo and flag.
While this does wonders for showing off important and visually appealing aspects of the building, it does even more for safety. A well-lit path to the building and a properly illuminated front door make it harder for criminals to attack your workers and visitors.
Many organizations rely on high-pressure sodium lights or metal halide lights (accounting for more than 50% of the lumen-hour sales in the building exterior category). Low-lumen compact fluorescent lights make up most of the rest of the lighting options currently installed, noted the DOE.
LED Lighting equipment (lamps and luminaires) reached a total of 7% of lumen-hour sales in 2013. As costs are projected to go down even more, the DOE forecasts LED lights will increase in use to 71% in 2020 and are expected to reach 99% penetration by 2030.
The energy savings are expected to be significant, according to the DOE. By 2020, savings on electric power will approach 39%. They should reach 47% in 2025 and 50% by 2030. Estimates indicate that a total of 74 terawatt-hours of electricity will be saved between 2013 and 2030.
Exterior lighting is mandatory for safety and is highly desired among property owners who want to show off the beauty and grandeur of their buildings. Even a modest amount of building exterior lighting will be helpful in terms of safety as well as appearance. Switching to Led fixtures will enable you to devote more resources to other elements of your business, such as equipment upgrades or hiring new personnel.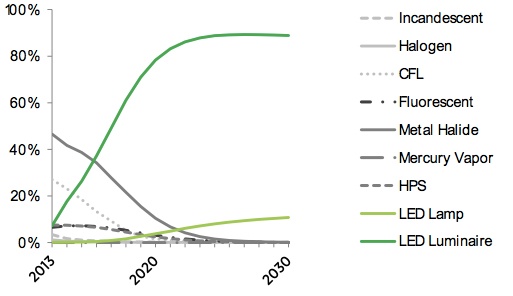 Figure 3.17 Building Exterior Market Share (% of lm-hr sales) Forecast, 2013 to 2030
Stay Tuned for More on LED lighting Industry Forecasts
There is a great deal of information in the DOE report that we cannot cover in a single article. Accordingly, we are publishing a complete series about LED lighting and the future of the industry that we hope our readers will find informative and useful.
Upcoming blog posts will cover a variety of LED lighting submarkets you can find outlined below. In the meantime, if you have any questions about LED lighting performance, selection or installation, please contact the team at XtraLight today.
Energy Savings Forecast of Solid State Lighting Series

Part 1- Introduction
Read Now
Part 2 - General Service Lighting
Read Now
Part 3 - Decorative Lamps
Read Now
Part 4 - Directional Lighting
Read Now
Part 5 - Linear Light Fixtures
Read Now
Part 6 - Low Bay & High Bay Lighting
Read Now
Part 7 - Roadway & Street Lighting
Read Now
Part 8 - Parking Lot & Garage Lighting
Read Now
Part 9 - Building Exterior Lighting