XtraLight Among Award-Winning Top Performers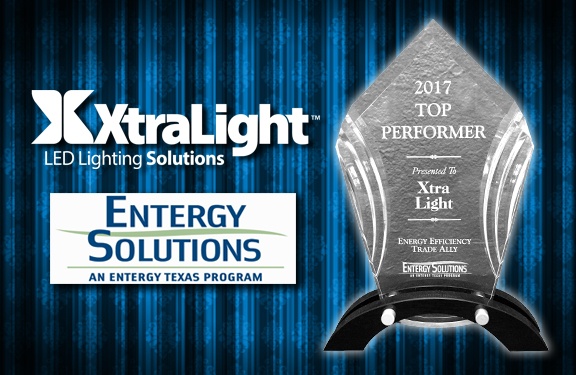 Houston, Texas (November 8, 2017) – Entergy Texas, Inc. recently recognized outstanding partners who participate in the Entergy Solutions program to save customers' money and energy. The Entergy Solutions program provides no-cost technical and financial support to help businesses identify and implement projects that reduce energy usage.
Awards are presented annually to trade allies who show an exceptional level of com
mitment to partnering with the program to help customers save energy and money. Out of over twenty companies that work to install energy-saving products and systems through the program, six were recognized as outstanding performers. E3 Energy Services, Energy Management Collaborative, Grainger, Leidos Engineering, OSRAM and XtraLight were the honorees who received awards this year.
"We're very pleased to be recognized as a top performer for the Entergy Solutions Program. Our team is always striving to provide our customers with quality work and excellent service. Helping them to reduce their energy use, save money, and contribute to bettering the environment through energy efficiency is very rewarding," says Jerry Caroom, XtraLight's CEO.
"The trade ally network is integral to the success of the Entergy Texas Entergy Solutions Program. We appreciate the work of all of our trade allies and strive to equip them with the informational tools they need to implement energy efficiency projects and be successful with the program," said Program Manager Mark Delavan.
The Entergy Solutions Commercial Program has saved Texas organizations over $611 million dollars based on the lifetime energy savings of equipment installed and total incentives earned by Texas commercial partners since the introduction of the program in 2008.
For over 30 years, XtraLight has invented, patented, and manufactured a wide range of industrial and commercial LED lighting products. XtraLight is the most responsive lighting manufacturer in the market and has the widest range of outdoor and indoor LED lighting fixtures. All products are made to order with a standard lead time of 7-15 business days and are backed by an industry leading 10-year warranty.