This week's featured product is a versatile LED linear luminaire. The LRW LED is the perfect solution for hallways, corridors, restrooms, or virtually any low profile application in commercial or educational spaces. It features a proprietary vandal resistant frosted ribbed lens and is available in either 42W or 52W versions. The housing is constructed of code gauge aluminum painted white (custom colors are available) while the end caps are mechanically fastened to the body for strength and rigidity. Choose from three Correlated Color Temperatures (CCT): 3000K, 4000K, or 5000K.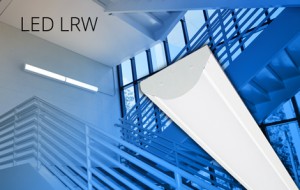 Features:
Energy-efficient replacement for up to a 2L T8 wrap.
Low wattage, high-efficiency fixture utilizing patented LEDLinX® technology.
Dimming and occupancy sensor options are available.
Ten-year limited warranty.
Once again XtraLight has combined the best LED system in the marketplace with its unsurpassed engineering to deliver another technologically advanced LED solution. All XtraLight LED products use the patented LEDLinX® light engine modules. LEDLinX® modules are field-replaceable, use superior name brand LEDs and are engineered for maximum thermal management. XtraLight confidently offers a 10-year limited warranty on all LED products.