The Vesica Indirect/Direct LED is a specification grade LED linear luminaire that's ideal for offices, conference rooms, retail, hospitality, healthcare and commercial applications.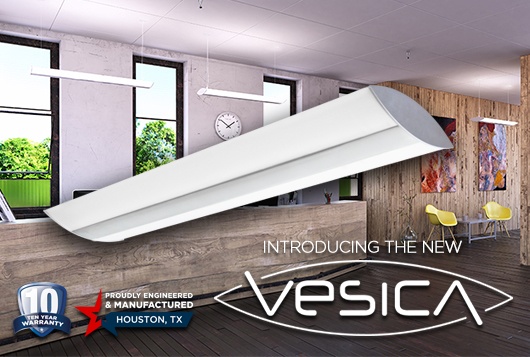 Houston, Texas (June 4, 2018) — Today, XtraLight LED Lighting Solutions continues to expand its portfolio of LED architectural lighting with the new Vesica indirect/direct linear suspended luminaire. The Vesica is more than just light. This distinctively contoured luminaire can stand alone as an extraordinary lighting statement piece or will integrate naturally into any existing room architecture.

"Customers are demanding highly-efficient LED architectural fixtures that make sense from a price perspective," says Jerry Caroom, CEO at XtraLight. "No longer are you forced to choose a conglomerate product that's not configured how you'd like for a project. Not only can we fully customize and manufacture within 7-15 business days, it's all done here in the USA and backed by our 10 year warranty."

XtraLight's new Vesica is the perfect solution for any office space, conference room, medical facility, retail space, hospitality or other commercial spaces. The versatile design allows an ability to customize performance, light distributions, mounting hardware, color finishes and integrated controls. The result is a maximized performance value for a minimal cost. With this prime alternative fixture, a configuration can be chosen that works best for a specification instead of forcing in a conglomerate product with a longer lead time or that's more expensive overall.

Product Features

- Available in continuous row or individual placement with light output up to 2,500 lumens per ft.

- Lumen output from 4,000L (31W) to 20,000L (168W).
- Extruded aluminum and steel housing with die cast end caps mechanically spring loaded to the body for easy accessibility in the field.
- Post-painted, textured finish in matte white, matte black, silver or custom color (consult factory).
- Best-in-class LEDs 3000K, 3500K and 4000K (minimum 80 CRI) with different light distributions to choose from.
- Manufactured in Houston, Texas and backed by a 10-year warranty.
Pricing & Availability
For pricing and product availability please contact customer service at 1-800-678-6960 or email customerservice@xtralight.com
For additional product specifications please visit: www.xtralight.com/vesica