HOUSTON, Texas (June 16,2015) - XtraLight is pleased to announce a complete line of area and site lighting LED retrofit solutions. The SRK LED series transforms existing HID luminaires to highly efficient LED models without compromising the aesthetics of the original design. This solution is well suited for applications where the existing luminaire is in good condition and architecturally appealing.
The kit is available in a wide range of configurations from 100W to 300W for square and round housings. The SRK LED is easily installed with options for 120-277VAC 50/60Hz and 480VAC 50/60Hz systems. It is available in 5200K or 4100K CCT models along with three lighting distribution options: Type 3, Type 4 and Type 5. Specific models can be ETL, Lighting Facts and DLC listed, please consult factory for more information about listings.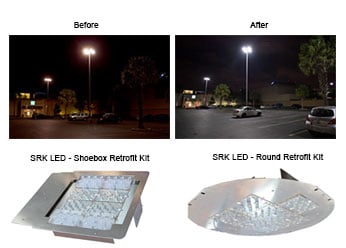 Once again XtraLight has combined the best LED systems available with its unsurpassed engineering to deliver another technologically advanced LED solution. All XtraLight LED products use the patented LEDLinX® light engine modules. LEDLinX® modules are field replaceable, use superior name brand LEDs and are engineered for maximum thermal management. XtraLight confidently offers a 10 year limited warranty on all LED products.