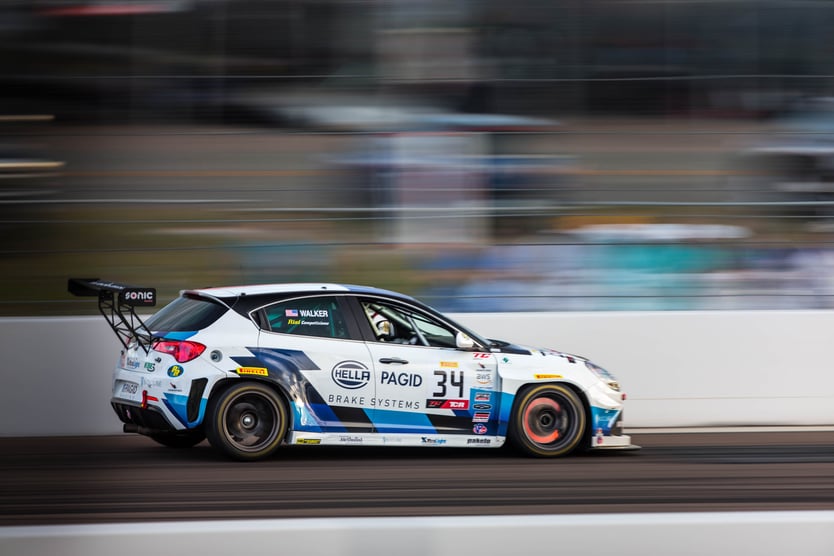 ______________________________________________________________________________________________________________________________________________
Veteran driver James Walker defeated all odds in St. Petersburg race against 'FCP Euro' drivers Michael Hurczyn and Nate Vincent.

The Blancpain GT World Challenge America is a highly accredited racing league founded in 1990 by the Sports Car Club of America. In comparison with other well-established racing organizations, it has quickly become one of the most competitively driven series within North America. In 2018, the TCR (Touring car race) class became the newest addition to the America Series Cup Championship. The new championship gloats eight-races, each more difficult than the next, spread sparsely throughout the United States. This class presented an entirely new perspective on racing, as teams faced heavy vehicle restrictions such as: a limited 2.0 liter turbocharged engine, a maximum of 420nm of torque, a minimum of four doors per vehicle, limited suspension/braking adjustments, and no engine modifications outside of tuning. Houston based racing-team Risi Competizione quickly and advantageously prosecuted this new TCR class in partnership with and veteran driver James Walker.
On March 9th, 2019, Walker competed in the Blancpain GT World Challenge of St. Petersburg. Consisting of two practice races, one qualifier, and two final races, the TCR class-series provided each of the thirteen drivers an opportunity to prove their skills.
"James Walker clashing with FCP Euro drivers Michael Hurczyn and Nate Vincent".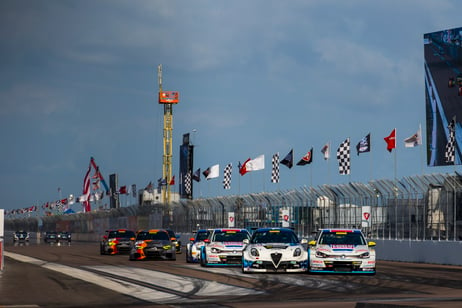 "
James Walker clashing with FCP Euro drivers Michael Hurczyn and Nate Vincent
".
Walker's presence from the start was unyielding, as in the second practice round, Walker recorded the fastest lap time of 1:21.726 in his Alfa Romeo Giulietta TCR . Confidently, James clashed against rival drivers Michael Hurczyn and Nate Vincent of FCP Euro in their two Volkswagen Golf GTI TCR's throughout the qualifiers and finals. Holding a top five position for a majority of the finals, Walker continually battled opponents throughout every corner and straight-away as the final lap unveiled. The pressure peaked as FCP Euro teammates Vincent and Hurczyn battled for first-place with Walker closely following. Fearlessly, Hurczyn attempted to overtake his teammate Vincent, provoking an unexpected collision that sent Vincent's vehicle far-wide. As Walker surpassed Vincent, an intense battle for first place entailed between Walker and Hurczyn for the remainder of the final-lap.
"Walker proudly standing at 2nd place next to Hurczyn (1st) and Vincent (3rd)".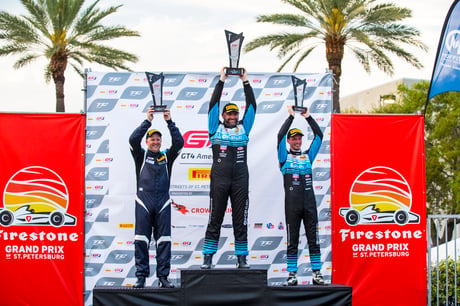 Walker finished placing second, marginally behind Hurczyn, and noticeably ahead of Vincent. This was a big win for 'Risi Competizione' as it set the bar for future expectations whilst simultaneously establishing their name in the series. Walker and Risi Competizione have three races left in the series:
August 30th- 1st - Watkins Glen International: Blancpain GT World Challenge.

September 20th-22nd - Road America: Blancpain GT World Challenge.

October 18th-20th - Las Vegas Motor Speedway.
___________________________________________________________________________________________________________________________________________________________________