"We didn't realize how dark our plant was until we put up the LED lights" - Mike Griffith (Pres).
In 1946 at the peak of World War II, Charles W. Davis had a vision to commercialize the jet engine. Forged from humble beginnings, Charles would continually develop what has now rapidly become one of the largest contract manufacturers in the world. With over 350 employees, Major Tool now has capabilities far beyond the jet engine. Offering project and program management services, welding and fabrication services, CNC machining, and full process assembly and testing capabilities, there's no limit on what Major Tool can provide to you.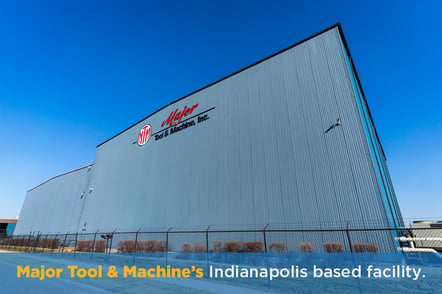 XtraLight brightens Major Tool's Future with LEDs:
Skill, accuracy, and a properly lit work environment are necessary to manufacture precision parts and systems for the US aerospace industry. Raytheon, Northrup Grumman, Lockheed Martin, NASA, and others constantly rely on Indianapolis based Major Tool and Machine to provide critical hardware for their Government and Commercial applications. Major Tool selected US based manufacturer XtraLight to provide a custom lighting solution when converting its factory from inefficient legacy HID lighting to state-of-the-art LED lighting.
The 600,000 square foot facility had some basic goals:
1) Achieve excellent light levels approaching 100 foot-candles to give workers better visual acuity and a safer working environment.
2) Minimize electrical consumption with the use of dimming occupancy sensors.
3) That the new lighting be highly reliable, made in America, and backed by a factory ten year warranty.
A 600,000 square foot facility is not your average sized warehouse, in fact that is larger than 10.5 NFL size football fields. How are you supposed to make something like this energy efficient?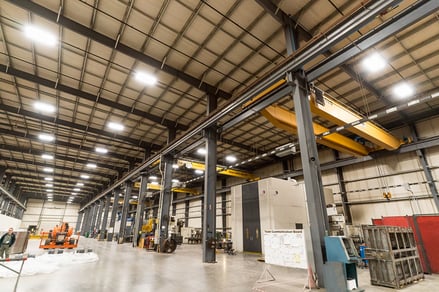 "We went from 20 to 30 footcandles to as much as 100 footcandles in many areas of the shop".
Like all of XtraLight's products, the lighting curated for Major Tool and Machine was engineered, manufactured, and tested in the USA. As a result, Major Tool and Machine benefited from the product performance they needed, and the peace-of-mind they want.
How much did the new LED lighting improve the working environment?
"We are seeing about a 20% reduction in our electrical consumption as a result of the LED lights".
Before the LED lighting, the light level on the facility's manufacturing floor was approximately 30 foot candles, making many spaces dark and difficult for employees to do their jobs efficiently. After installation, light levels increased to 90 to 100 foot candles, significantly increasing visibility so employees can see parts better, inspections can go easier, and the work process can flow uninterrupted.
What was the ROI?
The new LED lighting system is paying off financially for Major Tool and Machine. On the investment, Major Tool and Machine is seeing a three-year payback with an annual reduction in electricity costs up to 25% without any utility rebates or subsidies. This translates into savings of nearly $250,000 savings a year. Since the system is equipped with dimming occupancy sensors, the lights automatically adjust light levels so energy is not wasted on lights that aren't needed. Because LED lights emit less heat, Major Tool and Machine save on air conditioning costs during the summer months. From a cost perspective, the benefits of the new LED lighting system are huge.

A better lit facility, reduced electrical consumption, huge cost savings and a motivated workforce. This is what XtraLight delivered to Major Tool and Machine. Find out more on how the experts at XtraLight can deliver a lighting solution that meets your specific needs and benefit from our fast turnaround, easy installation, and excellent performance. XtraLight's Slim High Bay LED SHB was used in this installation https://www.xtralight.com/products/slim-high-bay-led/
To see the video of this case study:
To learn more about US Based manufacturer Major Tool & Machine visit their website at www.majortool.com