Viruses, bacteria, mold, and other pathogens are now stopped dead in their tracks with XtraLight's UVC High Power Ultraviolet Disinfection System. Follow these steps when using this effective and powerful light which emits 254 nm wavelengths. The results will amaze you and give you peace of mind.
UVC STEPS TO DISINFECTION:
STEPS:
FOLLOW SAFETY GUIDELINES
UNDERSTAND BASIC UVC TERMS
IDENTIFY UV DOSE
SURVEY AREA TO BE DISINFECTED
CALCULATE ESTIMATED UV EXPOSURE TIME FOR DISINFECTING
DISINFECT AREA AND VALIDATE WITH DOSIMETER CARDS
All surfaces within a certain distance will observe an assured level of disinfection in a certain amount of time as long as the wavelengths are not blocked from accessing the surface.
---
STEP 1
FOLLOW SAFETY GUIDELINES​
Do's​

Don't​'s

Protect your eyes

​

Use protective PPE gear

​

Establish a plan to disinfect area

​

Use safety timers

​

Train personnel in using UVC

disinfecting system

​

Use hazard warning signs when in

use

​

Keep fixture in protective case

​

Don't expose eyes & skin to UVC

​

Don't allow anyone to operate UVC

fixture without reading safety

instructions

​

Don't allow anyone into area being

treated with UVC

​

Don't touch the UVC lamps while

operating

​

​
Excessive exposure to UVC can cause adverse effects on the eyes, retina, skin,

circadian system, and immune system.

Human over exposure causes temporary skin redness and harsh eye irritation.

​

Symptoms may take 4 to 24 hours to occur after exposure.

​

​
STEP 2
UNDERSTANDING BASIC UVC TERMS​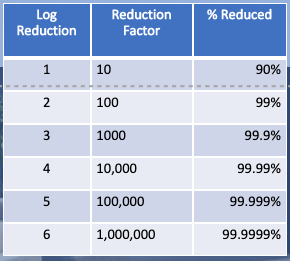 RADIANT EXPOSURE = J/m2 or mJ/cm2​
UV INTENSITY (I)

= energy per unit surface area

​

EXPOSURE TIME (T)

= exposure time in seconds

​

UV DOSE (FLUENCE)

= Intensity (I) x Time (T) expressed as mJ/cm2​
LOG REDUCTION

=
percentage of microorganisms inactivated
EXAMPLE:


a 1 log reduction will reduce the pathogen by 90%, before the UVC disinfection

​


a 2 log reduction will reduce the pathogen by 99%,

etc

…
---
STEP 3​
IDENTIFY UV DOSE
IDENTIFY TARGETED MICROORGANISMS
PAIR WITH LOG REDUCTION.

PATHOGENS

Common Name

Scientific Name

3 Log Reduction

Viruses

Rota

Rotaviruses (Human)

32 mJ/cm2

Infectious Hepatitis

Hepatitis B

25 mJ/cm2

Adenovirus

126 mJ/cm2

ECHO Virus

Echovirus

25 mJ/cm2

Bacteria

Salmonella

Salmonella Typhimurium

22 mJ/cm2

Staph

Staphylococcus aureus

3.2 mJ/cm2

(2 log)

Strep

Streptococcus faecalis

9.8 mJ/cm2

UV dose determines what proportion of a specific microorganism is destroyed after a particular dose of UV radiation

Target 50 mJ/cm2 to deactivate the average bacteria/virus

Example from Log Reduction
---
STEP 4​
Our testing Data:
XLM

Product

UV Intensity

Exposure Time

Radiance Exposure

Distance

Handheld

2.8 mJ/cm2

17 sec

50mJ/cm2

4 in.

Mobile

.34 mJ/cm2

6 min

50mJ/cm2

5 ft

Mobile

.08 mJ/cm2

17 min

50mJ/cm2

10 ft

Mobile

.03 mJ/cm2

28 min

50mJ/cm2

15 ft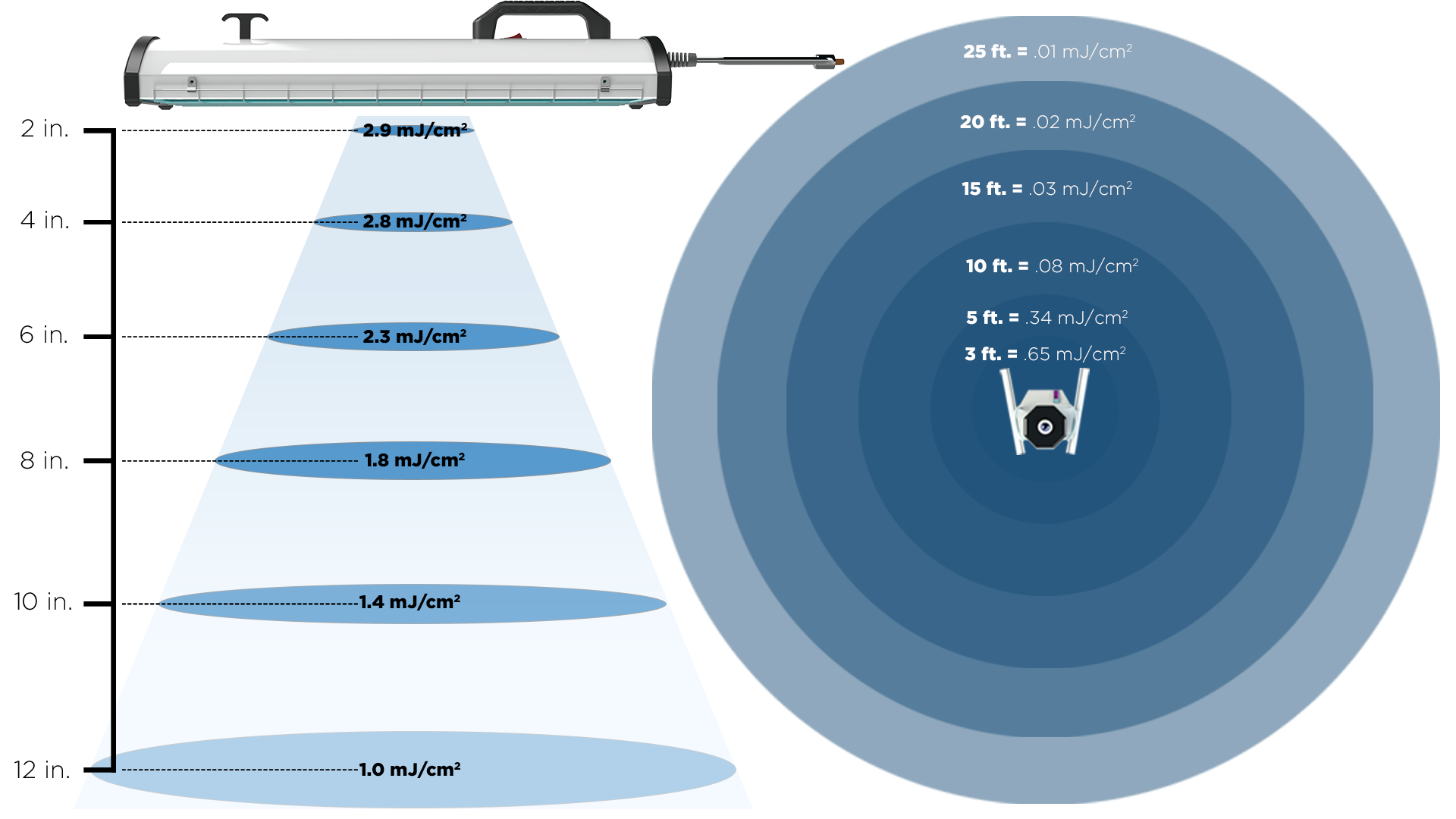 STEP 5​
CALCULATE ESTIMATED EXPOSURE TIME FOR DISINFECTING
DETERMINE

PLACEMENT

OF MOBILE UNIT AND NUMBER OF UNITS TO DISINFECT AREA

CALCULATE

EXPOSURE TIME = UV INTENSITY (at a specified distance) / UV DOSE / 60 SECONDS
UV DOSE = 50 mJ/cm2


---
STEP 6
DISINFECT AREA AND VALIDATE WITH DOSIMETER CARDS
Color changes from yellow to orange validates 50 mJ/cm2 delivered​
Color changes for

orange

to pink

validates

100

mJ

/cm

2

delivered




Exit the room and run disinfection cycle

Verify exposure of card and make notations on the card to document the color change

Make exposure reading within 24 hours after disinfection

Retain or discard the card in accord with site requirements

1 time use of dosimeter cards
To learn more about UV disinfection click here

​