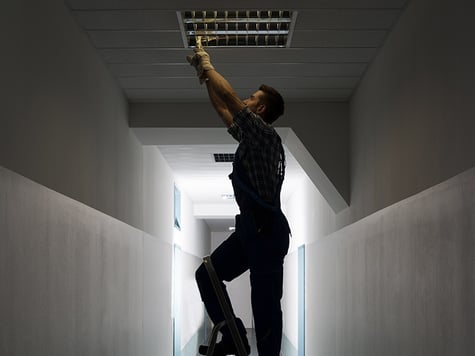 The rapid expansion of LED technology in troffers, high-bays and other lighting applications has caught not just manufacturers but facility managers off-guard. There are clear benefits to LED lighting, such as low energy costs and longer lifetime performance. However, most people are not working with new construction.
Rather, many facility managers and lighting designers are trying to incorporate this technology into existing frameworks. LED manufacturers understand this which is why buyers must consider whether they want to start from scratch with LED technology or ease into it.
Benefits of Retrofitting
There are a few key reasons to use LED retrofit kits within existing enclosures:
- They will end up using less energy over time that one would use for existing lighting
- The aesthetic appearance of the existing fixture is preferred to the appearance of an all new replacement fixture
- Depending on the situation, retrofit kits can cost less than new fixtures
Further, managers or lighting designers asked to work within short timeframes can more easily create a scheduled plan with retrofit kits. Using retrofit kits will also cut down on installation and training costs for maintenance staff compared to using all-new fixtures. Instead of trying to learn new techniques, they're adapting existing wiring packs and checking for similar issues during inspections.
If this sounds like retrofitting can be a bit of an end-around or a short-term solution, that's not quite accurate. Putting to use some simple calculations about energy saved versus retrofitting costs will show that retrofitting existing fixtures can provide a quick ROI. However, new luminaires do provide significant benefits and they still can end up cost-neutral when you take key factors into account.
>> Explore all the benefits LED Lighting has to offer >>
Invest A Little More, Get a Lot Later
The idea behind using solid-state lighting is that it is a completely different luminaire technology than existing systems. This opens up a multitude of options for lighting designers and facility managers alike. Since LEDs can produce more lumens for less energy, the whole interior of buildings can change without the need for large enclosures. In fact, because they can distribute light in a number of ways, you can:
1) Use smaller enclosures in greater frequency to minimize the appearance of lights; as well as
2) Prevent glare and dark spots that can hamper occupant comfort.
It also enables users to plan for the future. Occupancy sensors are already incorporated into many systems, increasing efficiency by turning the LED fixtures off when people are no longer in the room. This can also be linked, via the Internet of Things, into security systems and climate control, among many other options. Even if you don't think there is space in your budget now, new luminaires can provide options for reducing costs well into the future.
What's Right for You? Talk to Experts
If there was a one-size-fits-all solution to lighting issues, you wouldn't be considering a retrofit of your existing system. The best way to consider your prospects is to consult with lighting experts. They can walk you through the time cost of designing or installing new systems versus cost savings over the time frame most important to you. Where retrofits make sense, you can also get a sense of the benefits over your existing lighting systems and the time to the project becoming cost-neutral.
If you're considering an upgrade to your lighting, take the first step towards big savings by scheduling a complimentary Professional Lighting Assessment from XtraLight. We'll evaluate your current system and provide recommendations, cost savings analysis, and project cost estimates unique to your needs. Learn more here!