Illuminating subtly from the ceiling, recessed lighting is a popular form of architecture that is specified for a wide range of new construction applications. While predominantly used for office spaces or conference rooms, architects are finding new and unique opportunities to feature recessed lighting in their projects. However, selecting the right luminaire, with the right performance, is a critical component of design for architects to perfect. When done well, layering light correctly can create a beautiful environment or create a wreck of a setting when not. Ideally, architects can rely on lighting designers to make sure that they have the correct spacing, illumination output and color temperature for the climate. By doing so, you can create visual interest in a space and avoid dull areas.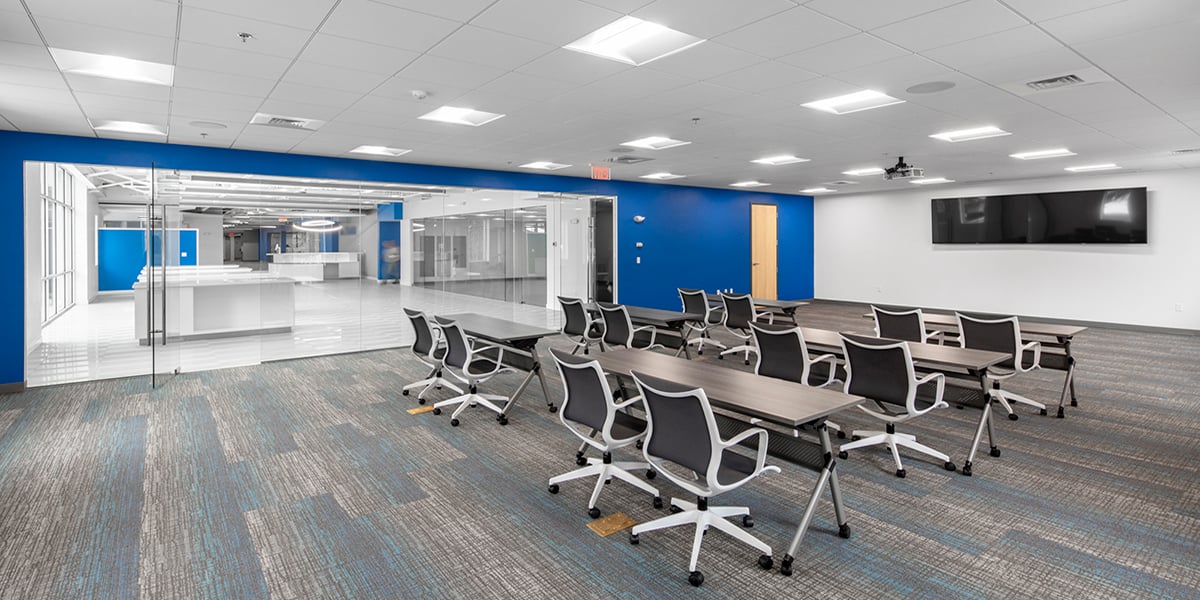 Recessed Troffer Lighting Components
In today's market, LED recessed lighting has become the exclusive standard for new construction because of energy codes, building certifications, and integrated lighting controls. Here are a few terms to keep in mind for LED recessed lighting:
LED Driver – Every LED recessed lighting luminaire requires a driver. The LED driver serves two purposes: to convert higher voltage, alternating current to low voltage, direct current, and to keep the voltage or current flowing through the circuit at its rated level.
Housing – The housing of the luminaire is the portion that lives behind the ceiling and holds the lighting components in place. Depending on the application that the light is servicing, housing types will vary in dimensions to accommodate the nature of the space. For office space ceiling grids, LED recessed troffer lighting traditionally comes in 1'x4', 2'x2' or 2'x4' models but actual dimensions will be slightly less to accommodate clearance of installation. Quite often, troffer flange kits are available to provide frame support for wood, drywall or plaster ceilings. A supporting lighting manufacturer, like XtraLight, will be experts in advising the right selection.
Reflector – The reflectors are large, one-piece sections of material that reflect light with a specific distribution. For more modern LED recessed troffers, reflectors are symmetrically contoured to provide smooth light distribution in an area. If designed correctly, a reflector should be able to make the LED recessed troffer more efficient by providing a sufficient amount of light with a minimal amount of energy.
Lens – The lens, or the cover for the LEDs, is crucial for maximizing lumen output while minimizing glare. Lenses are made from different materials to best suit different applications. Polycarbonate lenses, for example, are durable enough to withstand environments that might have harsh conditions. When specifying LED recessed troffers, make sure that the lighting manufacturer directs you to the right option for your application.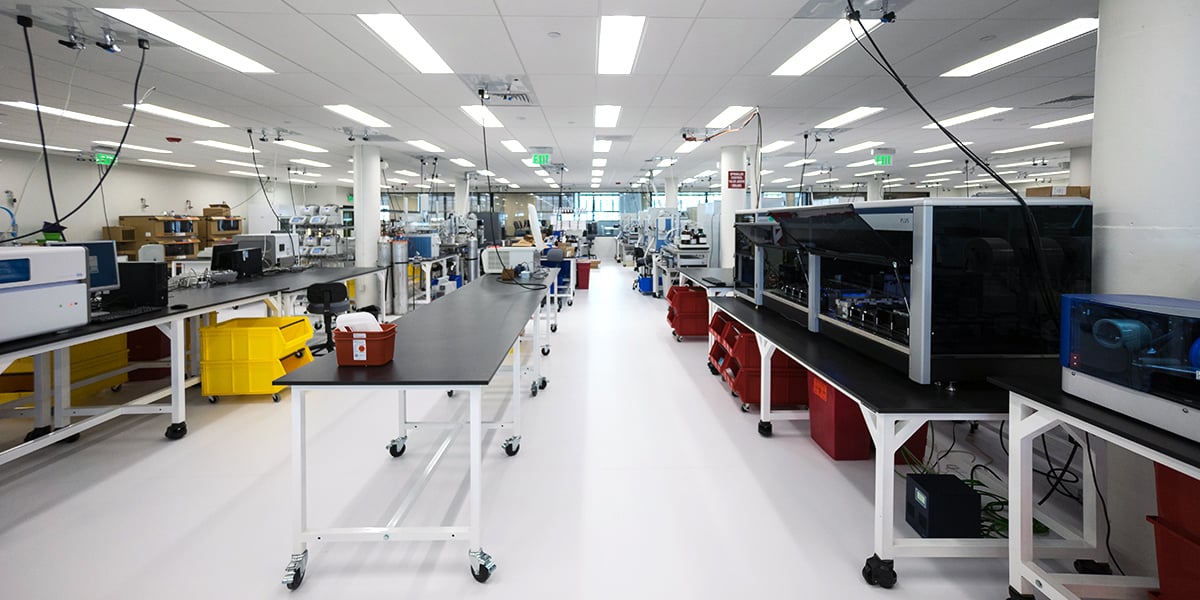 Recessed Troffer Lighting Aesthetics
Because LEDs are integrated directly into the luminaire and aren't dependent on bulbs, LED recessed luminaire dimensions can be highly modified. Square and round profiles are the most common shapes among recessed lighting, though endless custom profiles are possible from a manufacturer who can be responsive to design requests. Finishes will vary, dependent on the type of environment they will be subject to. Traditional office spaces might utilize a matte white finish, while industrial or food processing locations might utilize a sealed grey or silver finish. Once again, reputable lighting manufacturers should be able to customize a product that meets your project application.
Additional Considerations
Lighting Controls – Cost-effective lighting control solutions are a perfect way to not only reduce energy consumption and stay code-compliant, they allow you to gain understanding of your facility operations. Lighting manufacturers should have the ability to integrate trusted lighting controls, like occupancy sensors or dimming capabilities into their LED recessed troffers to help solve difficult layout and application challenges.
Energy Efficiency – Manufacturers of LEDs are constantly making new technological advances in terms of efficiency. When designing a project, be sure to have the most updated specifications to evaluate lighting performance.
IC Rating – An insulation contact (IC) rating designates whether or not a recessed luminaire can come into direct contact with the building's thermal insulation. LED recessed troffers with IC ratings can withstand the heat buildup and can be freely installed in insulated ceilings. Reference the lighting manufacturer product specifications for this rating if this ceiling type applies to your project.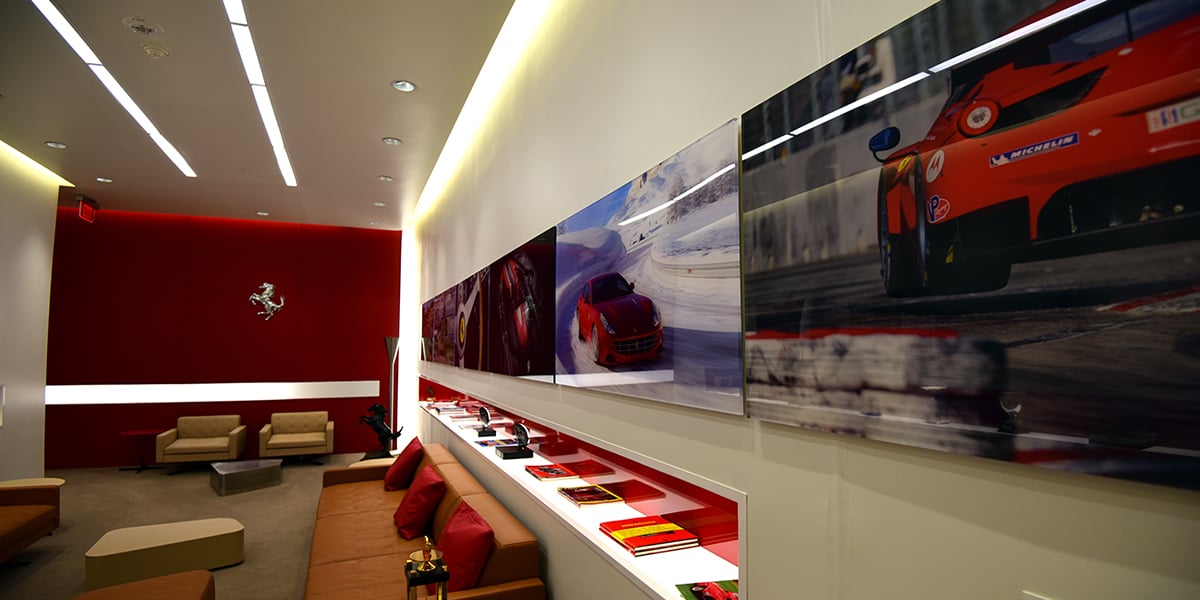 Ask The Lighting Experts
If you're looking for the perfect recessed lighting for your next project, check out the portfolio of LED lighting products from XtraLight. With over 30 years helping lighting professionals, our team has the expertise to get you exactly what you need.