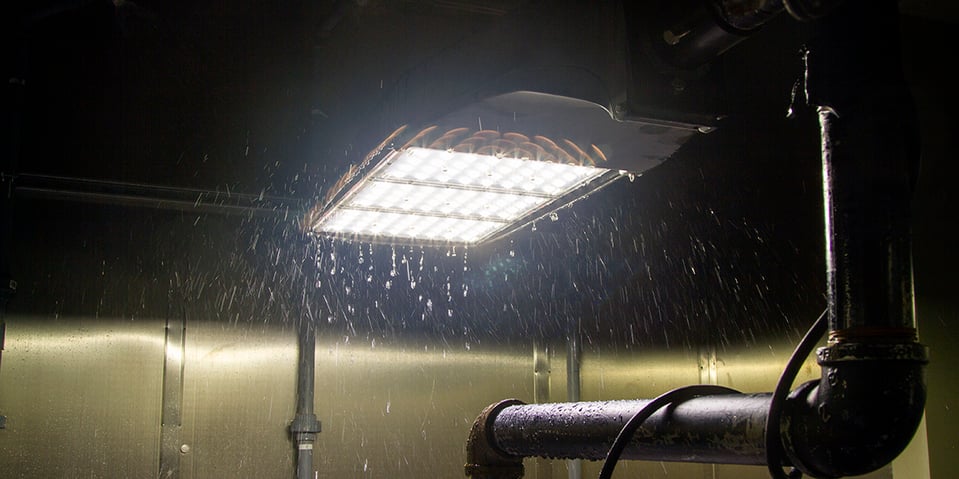 When searching through product specification sheets, you'll often come across an IP rating that's been defined by the manufacturer.
What do those numbers mean? and what does an IP rating indicate?




In this new blog post, we'll focus on what IP ratings are, and what they can tell you about that particular product.
1. IP Ratings Are Defined By An International Standard
IP (or Ingress Protection) ratings are defined by the International Electrotechnical Commission (IEC) standard 60529 and are used to classify the sealing effectiveness of a particular electrical enclosure against intrusion from foreign bodies and moisture. Such foreign bodies might include hands, fingers, tools, wires, and dust. This international standard aims to provide more information rather than vague marketing terms such as "waterproof". Ingress Protection testing per IEC 60529 for lighting products can be completed by a nationally recognized laboratory and NVLAP accredited laboratories.
2. The Numbers In An IP Rating Indicate Two Meanings
The characteristic numerals in an IP rating indicated conformity with conditions summarized in the table below. The first digit designates the level of protection that a particular enclosure has against hazardous parts and the ingress of solid foreign objects. The second digit designates the protection of equipment inside the enclosure against the ingress of water. For example, an LED luminaire that's rated IP 65 is completely protected against the intrusion of dust but will become unsafe if it's immersed in water completely.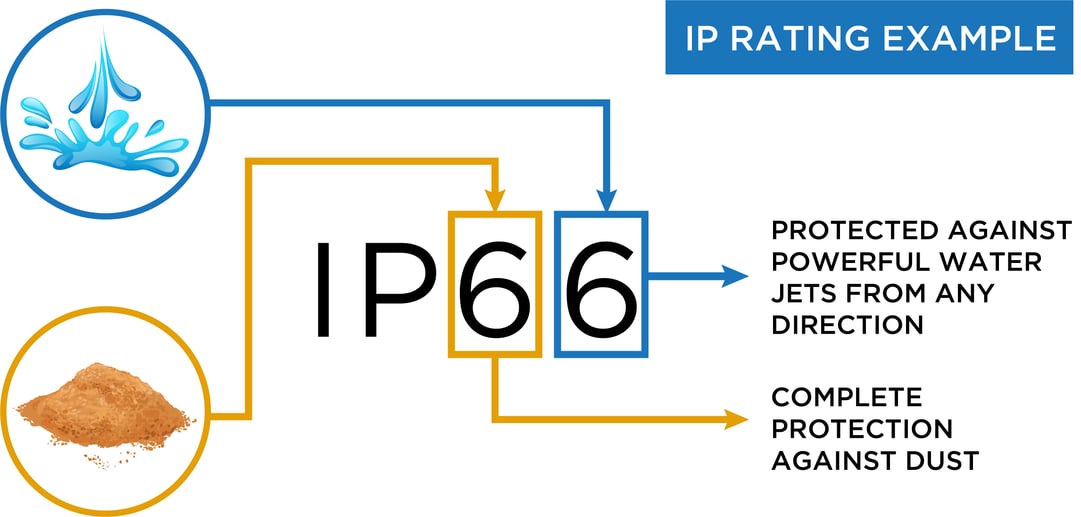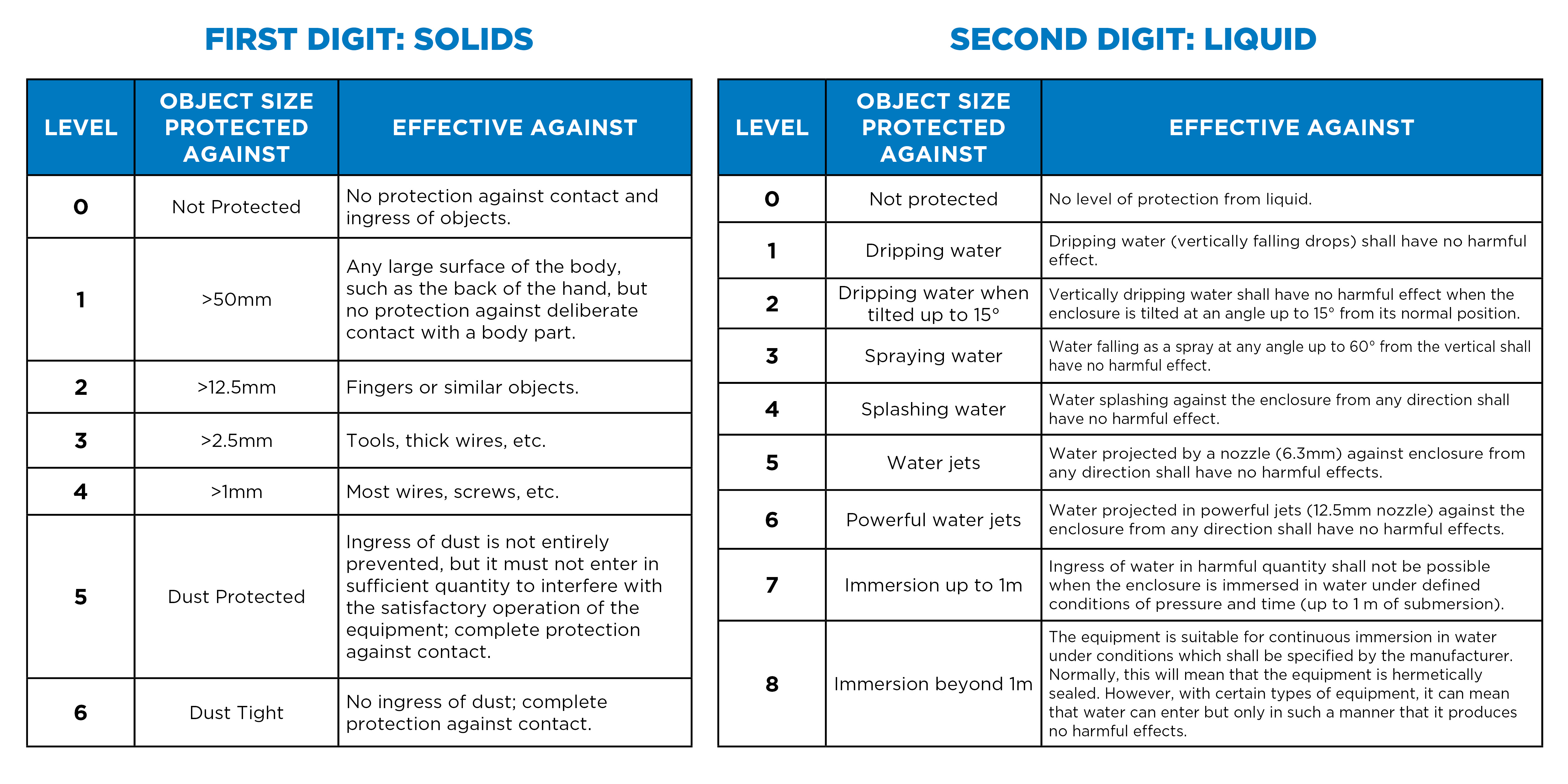 3. There Can Be A Third Digit In An IP Rating
An additional digit, often an additional letter, indicates other protections the enclosure has:
D - Wire
F - Oil Resistant
H - High Voltage
M - Device Moving During Water Test
S - Device Standing Still During Water Test
W - Weather Conditions
The letter K is specified in DIN 40050-9, and not in IEC 60529.
IP ratings with the letter "K" (IP69K typically) are most prominent with food processing industries or industries where a high level of hygiene and cleanliness is paramount. IP69K provides protection against dust, high temperature, chemicals, and high pressure water. Enclosures with this rating withstand a rigorous high pressure wash-down procedure. This particular water intrusion test involves placing the product on a turntable with a rotational speed of 5 ±1 revolutions per minute. The product is then sprayed at close range at a rate of approximately 4 gallons per minute with water pressure of between 1160-1450 psi, at a temperature of 176°F (80°C). The nozzle from which the water is sprayed is held between 4 and 6 inches from the product enclosure at a variety of angles.
4. NEMA Enclosure Ratings Respectively Meet IP Ratings
The

National Electrical Manufacturers Association

defines NMA enclosure types in

NEMA standard number 250

. While the two standards are not directly equivalent, the table on the right outlines which IEC 60529 IP code respectively meets the NEMA rating.

NEMA ratings also require additional product features and tests that aren't addressed by IP ratings such as functionality under icing conditions, hazardous areas, knock-outs for cable connections, and others.
Understanding What IP Ratings Mean To You.
By understanding what IP ratings mean for a particular luminaire, you'll be able to effectively design a lighting schedule that makes the most sense or make an educated buying decision for your property. Our trusted and experienced lighting experts can help you during the process! If you have questions about a particular luminaire or just need guidance about a project, reach out directly to us below.