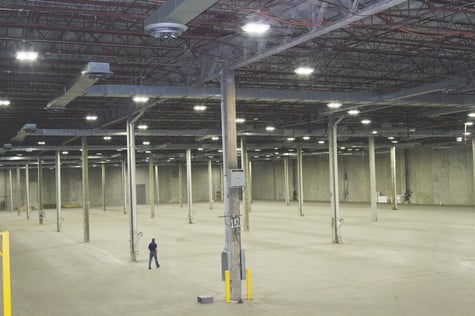 Low bay and high bay lighting are ubiquitous in many commercial and industrial facilities. They are almost part of the background, so it is relatively easy to become accustomed to using them without realizing improved lighting technology is available that will save energy and money.
With so much energy being expended on lighting our enterprises, it makes sense that lawmakers would want to encourage the development of lamps that use as little power as possible while providing maximum illumination.
Welcome to part 6 of our ongoing series covering the U.S. Department of Energy's "Energy Savings Forecast of Solid-State Lighting in General Illumination Applications" report. The DOE offers an overview of the state of solid state, or as it's more commonly referred to, LED lighting and the role LEDs will play in conserving energy. It also predicts how much energy we will be saving on utility bills in 2030 when market penetration of solid state lighting has improved.
If this is your first time checking out our blog, please click here to read the introductory post on this DOE forecast.

Shedding Some Light on High Bay Lighting
High bay lighting fixtures are often seen in immense indoor spaces (with ceilings 20 feet or higher), such as in warehouses, big box retailers and factories. The high ceilings and large amount of space to illuminate typically lead facility managers and owners to install luminaires with high-lumen outputs. Fixtures delivering 15,000 lumens or more are not uncommon.
Of course, such enormous lighting requirements will involve a great deal of electricity, even when you are using fluorescent lights for your low and high bay lighting fixtures. The DOE report noted that the low and high bay lighting submarket amounts to about 25% of the lighting in commercial buildings and approximately 50% of industrial buildings. This makes it a valuable target for cutting energy costs through the application of solid state lighting.
As more and more customers patronize big box chains such as Costco, Walmart and Home Depot, low and high bay lighting systems have also increased in use as more stores are built to support the additional foot traffic.
LED lights will represent about 41% of industrial sales and about 35% of commercial sales of low and high bay lighting systems by 2020. As penetration progresses in this industry, the DOE forecasts a 6-percent reduction in energy consumed in the U.S. in 2020 and 28% by 2030.
Earlier versions of LED lights could not generate the lumens needed in large industrial and commercial locations, so their adoption was minimal. But LED light fixtures are now able to produce 25,000 lumens, so the DOE anticipates more market penetration over the next decade or so with these more energy-efficient lamps.
If your large commercial or industrial facility still uses fluorescent lighting for low or high bay lights, now would be a good time to consider installing LED lighting in its place. Increased efficiencies in LED fixtures and the resulting lower costs make this technology a money-saving option that you and your stakeholders will find difficult to ignore. Knowing that you are doing your part to lower greenhouse gas emissions through diminished energy consumption will also be a source of pride for you and your employees.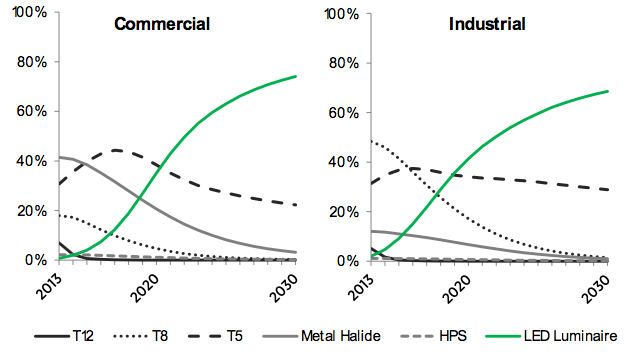 Figure 3.13 Low/High Bay Market Share (% of lm-hr sales) Forecast, 2013 to 2030
Stay Tuned for More on LED lighting Industry Forecasts
There is a great deal of information in the DOE report that we cannot cover in a single article. Accordingly, we are publishing a complete series about LED lighting and the future of the industry that we hope our readers will find informative and useful.
Upcoming blog posts will cover a variety of LED lighting submarkets you can find outlined below. In the meantime, if you have any questions about LED lighting performance, selection or installation, please contact the team at XtraLight today.
Energy Savings Forecast of Solid State Lighting Series

Part 1- Introduction
Read Now
Part 2 - General Service Lighting
Read Now
Part 3 - Decorative Lamps
Read Now
Part 4 - Directional Lighting
Read Now
Part 5 - Linear Light Fixtures
Read Now
Part 6 - Low Bay & High Bay Lighting
Part 7 - Roadway & Street Lighting
Read Now
Part 8 - Parking Lot & Garage Lighting
Read Now
Part 9 - Building Exterior Lighting
Coming Soon!